Moisture can be a breeding ground for bacteria, however on the Bloody Buddy Cup Drying Place, the water falls off your cup or disc and quickly evaporates, eliminating moisture. When bacteria comes in contact with the surface, it's absorbed by the stone which dries them out and they quickly die.
Meet the perfect place for your Bloody Buddy Cup. After its had a little rinse, don't put a puddle on your counter, place your cup (or disc!) on the Drying Place and watch the water dissipate, eliminating an environment where bacteria might grow.
Bloody Buddy Cup's drying place is made from natural stone with natural antimicrobial properties. Instead of leaving a puddle of water on the counter, where bacteria and mold could thrive, the Drying Place stone gives your menstrual cups or discs a clean place, where water practically disappears before your eyes.
What is this MAGIC?!
How to Use With Your Cup:
Rinse your cup completely clean. (Tip: Use Bloody Buddy Cup's Foaming Cleanser to get your cup squeaky clean and extra during your period!)

Shake over the sink to leave most of the excess water behind

Place on Drying Place, open side down, and be on your way, the Drying Place will take care of the rest. (smile)
Caring for your drying place:
If your drying place gets overly saturated, lean it upright, against the wall, to allow airflow until it's completely dry.

We recommended rinsing your cup with our Foaming Cleanser before placing it on the drying place.

The drying place is super absorbent, but you don't want to overwhelm it, don't submerge the drying place in water, or store it in the shower.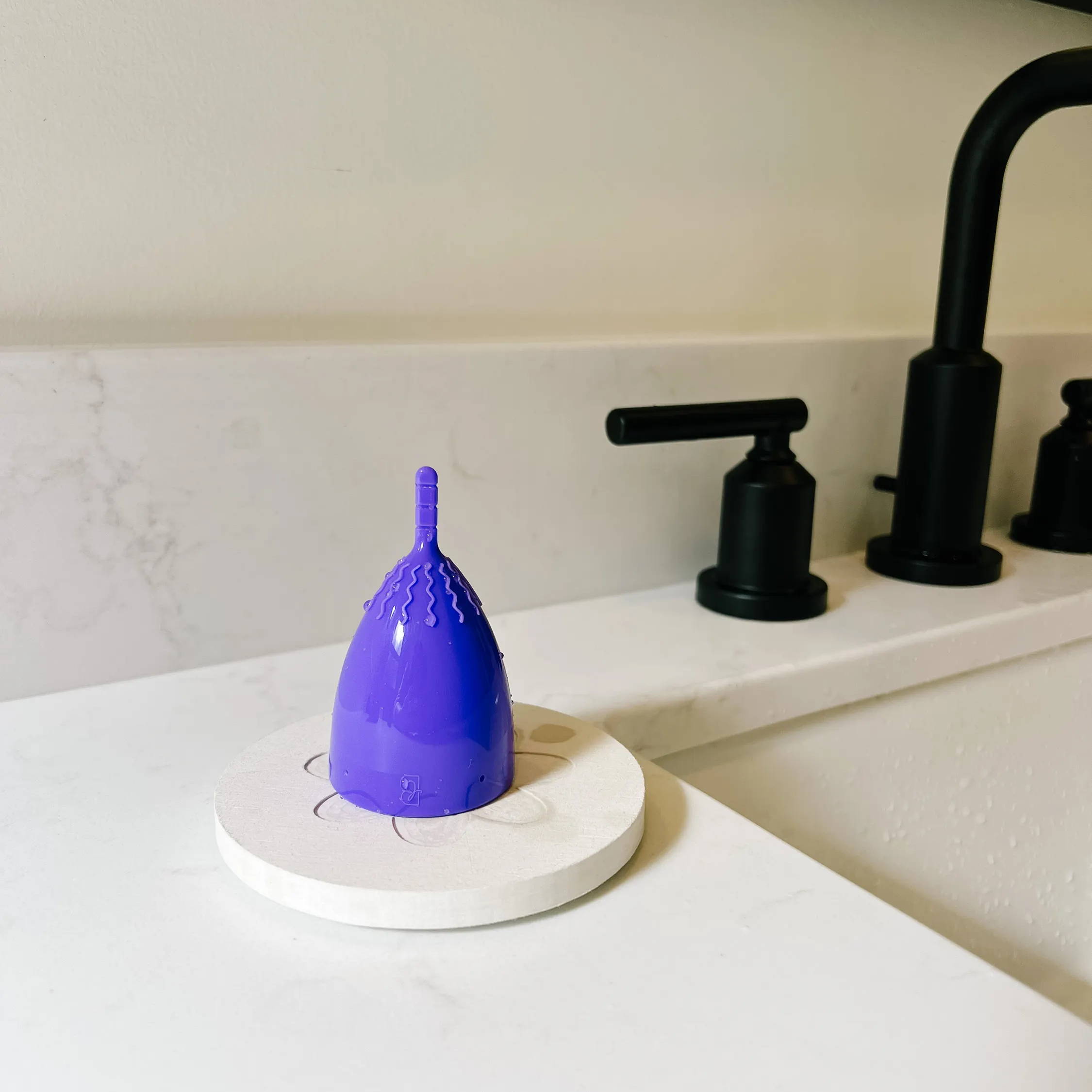 If your toilet is further than arms reach from the sink, The Drying Place can make the flow of changing your cup easier.
1- Walk into the bathroom, pick up clean cup off the Drying Place
2- Remove/empty used cup, place to the side (usually on a small piece of toilet paper)
3- Insert clean cup, take dirty cup to rinse at the sink
4- Leave on the drying place, ready to use for your next change
Also great for your toys, if you switch back and forth between cups and discs throughout your period, or if you prefer to only use a cup during the night or day.