---

---
NOT JUST ANOTHER CUP, IT'S THE
Designed to be the easiest-to-use, most comfortable menstrual cup! Our patent-pending features make the Bloody Buddy Cup a perfect choice for beginners or experts!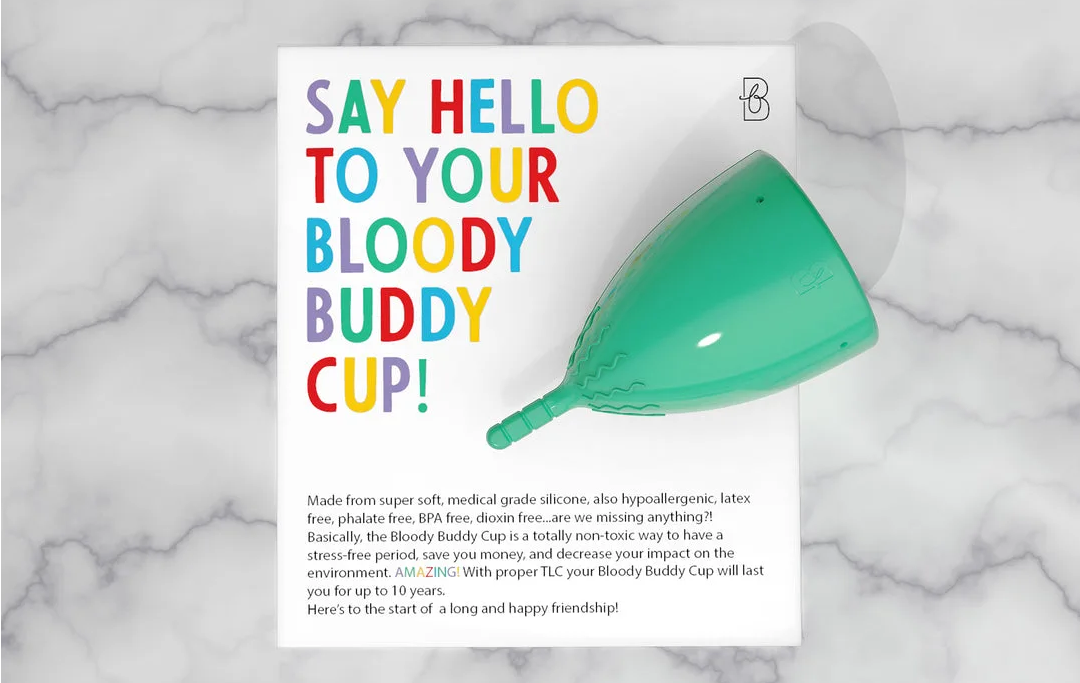 ---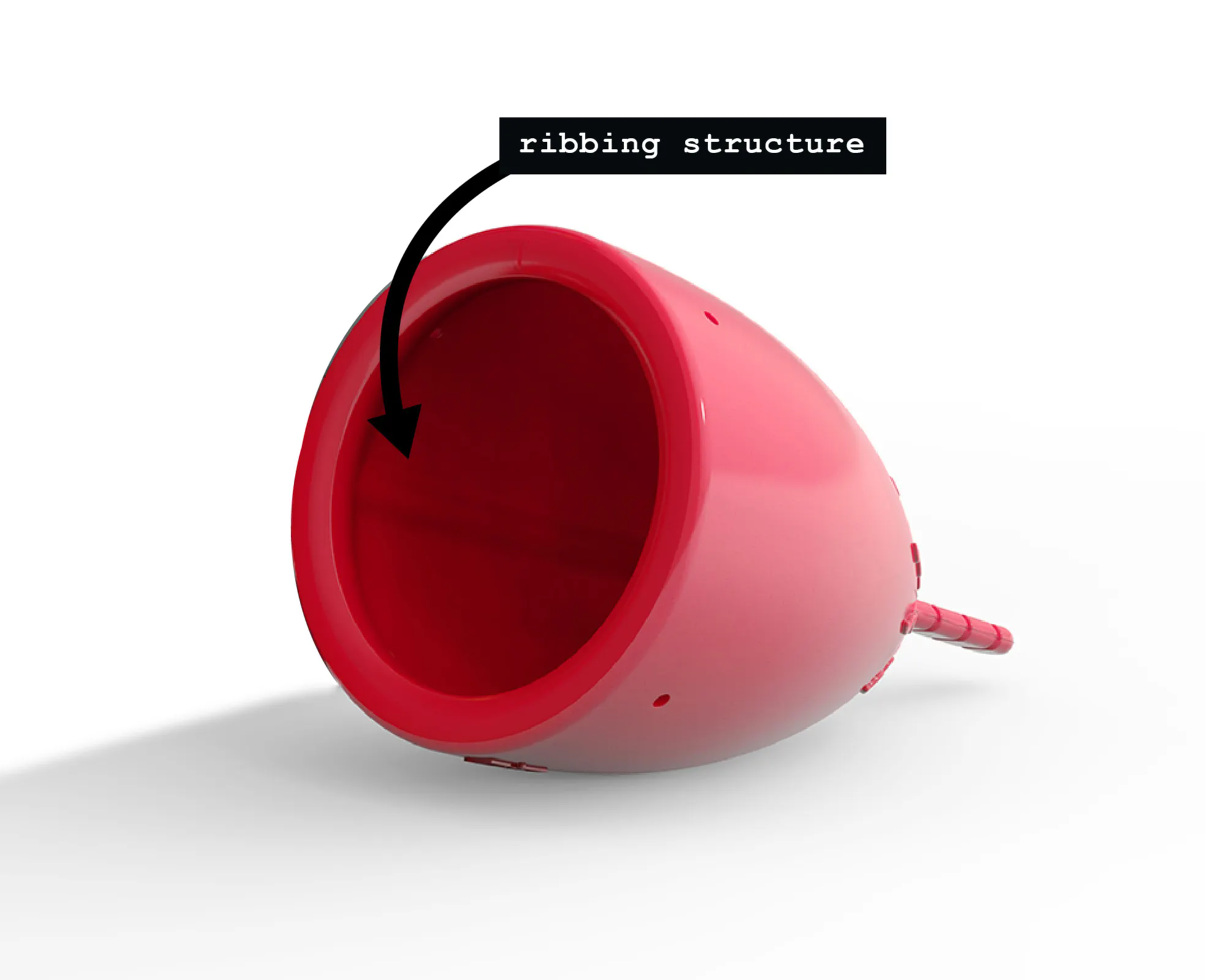 One of the biggest issues people run into when switching to a menstrual cup is getting the dang thing open. Problem solved! The Bloody Buddy Cup now has four ribs built into the walls of each cup that provide just the right amount of structure to help the cups open easily every time.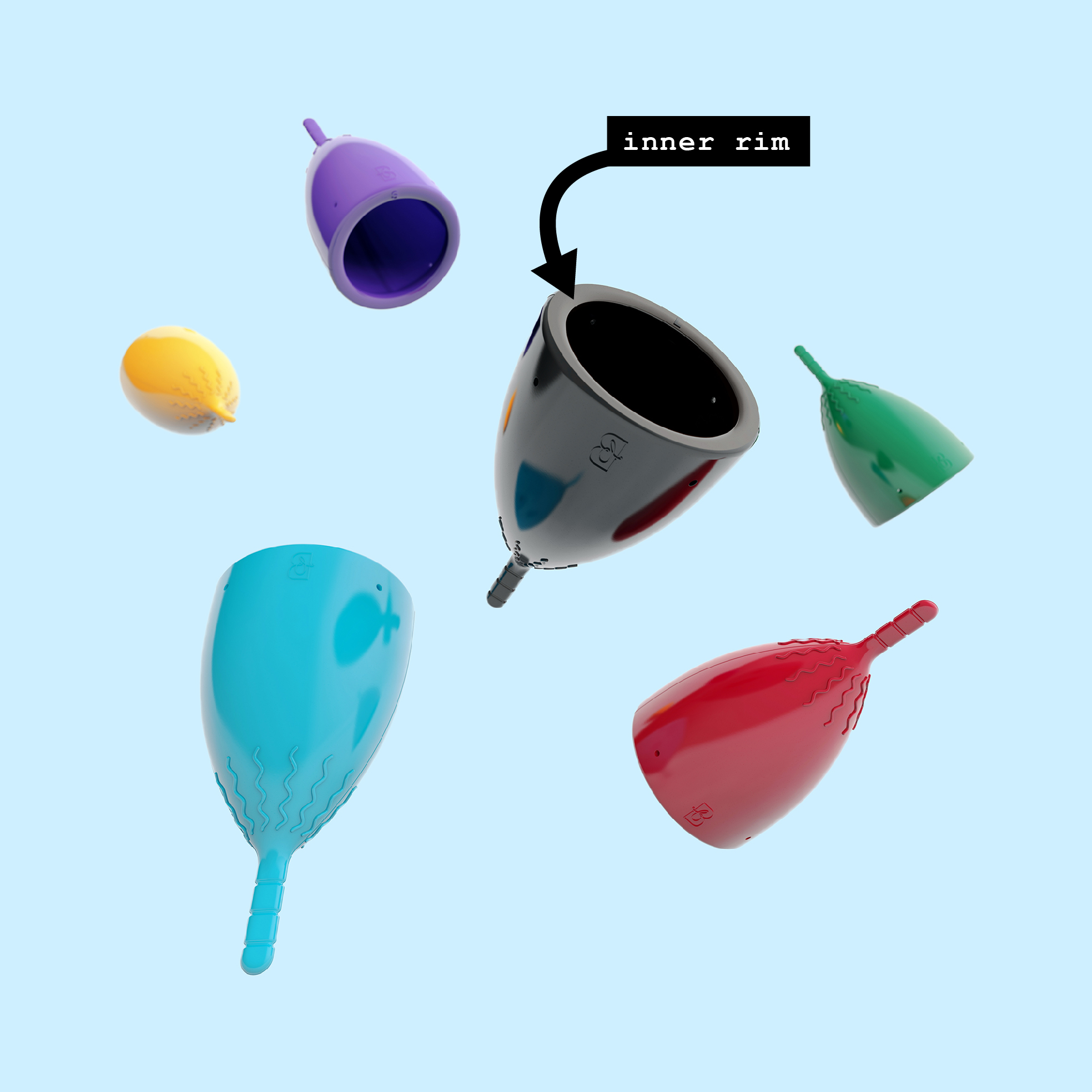 Bloody Buddy Cups' inner-rim also assists with opening during insertion but it's so sleek and thin it will never get in the way of keeping your cup clean. By moving the rim inside we've upped the comfort factor as well. Once you get your buddy in place, you shouldn't feel a thing!
---
What Makes A Bloody Buddy Better?
Our cup's stem was designed to be so flexible, thin and comfortable, even if your cup sits lower you won't necessarily need to trim the stem.
It's ultimately up to you though and if you ever do decide to give it a little trim, the recessed lines on every stem are the perfect guide!
Wavy Grips
(patent pending)

We updated the grips to make twisting during insertion, and pinching for removal even easier.
We want any Bloody Buddy Cup maneuvering to be done with confidence. No slipping here!
Pincher Bulb
(patent pending)

This is something you can't see, but you'll definitely use! There's a pea size pincher bulb built into the base of each cup.
It will help you get a firm grasp as you rotate after insertion and it stops your cup from collapsing or refolding at the base.
---
We know trying to think about age, cervix height, how heavy or light your flow is and what kind of action your vagina has or hasn't seen can make choosing a size feel overwhelming. Today we're gonna give you all the info you need to be able to pick a Bloody Buddy Cup size with confidence!  
Refer to the chart below to help you choose the best size for you. If you are on the cusp or unsure, we offer mixed size 2-packs to be sure you'll get something that fits!
| | | |
| --- | --- | --- |
| Teen | Small | Large |
| | | |
| | | Age 30+ and/or full term pregnancy |
| 2.55" length (including stem) | 2.75" length (including stem) | 2.97" length (including stem) |
| | | |
What's Age Got To Do With It?
There's no magic spell that automatically changes your vagina on the morning of your 18th or 30th birthdays so why do a lot of menstrual cup sizing guidelines mention age? Because naturally as we age our hips widen and our pelvic floor muscles lose some of the tone they had when we were younger. A cup that fit snugly and stayed in place as a teen or in your twenties often won't be such a great fit in your 30s (and beyond!) or after you've given birth.
Age can also be something to think about when it comes to insertion and removal. All of our cups fold up compactly to make using them as simple as possible but for teens and younger cup users, our smallest size will be the easiest to put in and take out. Also, there's no age requirement for using a cup but being fairly comfortable with your body and having a basic understanding of how your period works is very helpful!
Let it Flow
Were you a tampon user before switching to a cup? Ok great! So think of it this way: Our Large cup holds 25 mL, that's five times as much as a regular absorbency tampon and twice as much as a super plus tampon. If you know how many tampons you were going through (and what size you were comfortable inserting) day to day on your period, that will give you a pretty good idea of what Bloody Buddy Cup size will best accommodate your flow.
Pro tip! If you're new to cups and not sure how often you need to empty your Bloody Buddy, try emptying it every few hours the first couple of days you use it. Make a mental note of how full your cup is each time, you might notice your period isn't as heavy as you thought it was!
At Your Cervix
Bloody Buddy Cups are meant to be completely internal so where your cervix is located will make a difference in where your cup sits. If you think you have a low cervix, finding out exactly where it is is a good idea.
Inserting a clean finger into your vagina during your period and feeling for your cervix (it's the smooth, raised spot at the end of your vagina that will feel like the tip of your nose when pressed) is a great way to learn where yours is. To get the most exact cervix height measurement, measure the length of finger you needed to insert until you were able to reach your cervix.
If you have a high cervix (you had to insert your entire finger before feeling it or you weren't able to reach it at all), you won't need to trim the stem of your Bloody Buddy Cup. If you have cervix that's a little lower, you might need to trim the stem to make your cup as comfy as possible.
Don't Stress!
In the end, we're all unique! Don't get too stressed about sizing. If you're worried at all about ending up with the wrong Bloody Buddy Cup size, we've got you covered with our mixed packs. Go with the two sizes you're trying to decide between and you'll be set!
Each pack of Bloody Buddy Cups® includes two amazing Bloody Buddy Cups, two convenient storage bags, and a team of fellow flowin' friends to help and support you getting started, should you have any bumps along the way.
The Bloody Buddy Cup is a safe medical grade silicone cup, designed to be inserted into the vagina and collect your menstrual flow, for a more convenient, cheaper, greener period! Don't keep waiting to experience a more convenient period!!!
The Bloody Buddy Cup is FDA Registered, and made from the HIGHEST available medical grade silicone.
We've custom designed every aspect of our menstrual cups! This is not a "private label" menstrual cup. Only the best for your hoo-ha! (You can read more about private label menstrual cups here.)
Bloody Buddy Cup is committed to helping people with periods experience PERIOD FREEDOM™ We guarantee our product, and we are happy to refund you if you are not satisfied.
Our Friendly Guarantee!
If you purchase a Bloody Buddy Cup and you are not satisfied, we will accept a return and we'll refund you the amount of your order,

minus shipping.
We are not able to cover shipping for returns and refunds.
Friendly Guarantee and Other issues:
We highly encourage you try the Bloody Buddy Cup for at least 3 cycles. Like most things in life, there is a learning curve, and it just takes practice! For one-on-one support, send us a message!
We offer a generous 1 year from your purchase date to return your Bloody Buddy Cups. This gives ample time for you to figure out your cup and fall in love with it.
If you you are not satisfied with your purchase, we will accept a return and we'll refund you the amount of your order, minus shipping. We do not refund or cover shipping costs on returns. 
Products do NOT need to be shipped in the original packaging, this saves on return shipping costs. More details on returns below.
Returned items are NOT RESTOCKED. We do not sell returned packages, even if they appear unopened. They are properly disposed of.
Lost or Stolen:
If your product was lost or stolen during shipping hopefully you purchased the shipping insurance. Check your email for the email from Guardia1 that should have been received shortly after your order was placed. Follow the link in the email and your product will be re-shipped right away!
Please note that the tracking systems, especially during holidays and high volume shipping times (like a pandemic) are not always accurate. We recommend waiting at least 24 hours after delivery confirmation to file a claim. We've seen many packages show up 48-72 hours after "delivery" through certain carriers.
If you did not purchase shipping insurance, you can contact holler@bloodybuddycup.com to see how we can help.
Damaged:
If you purchased the shipping insurance, look for your confirmation email from Guardia1 that should have been received shortly after your order was placed. Follow the link in the email and your product will be re-shipped right away!
If you did not purchase the insurance, and your product arrived damaged, please contact holler@bloodybuddycup.com for more assistance.  
Wrong Item:
If you received the wrong item in your order, please contact  holler@bloodybuddycup.com and we'll get you all taken care of!
Process:
A legible page with the following information must be included, (along with the product you are returning) in your return. Without this information, we will not be able to process your return. Printed or handwritten is fine, we get it, not everyone has a printer these days!
• Name on order:
• Order #:
• Email address used to place the order:
• Reason for return:
SHIP TO:
For any additional questions on returns, please contact us at holler@bloodybuddycup.com
---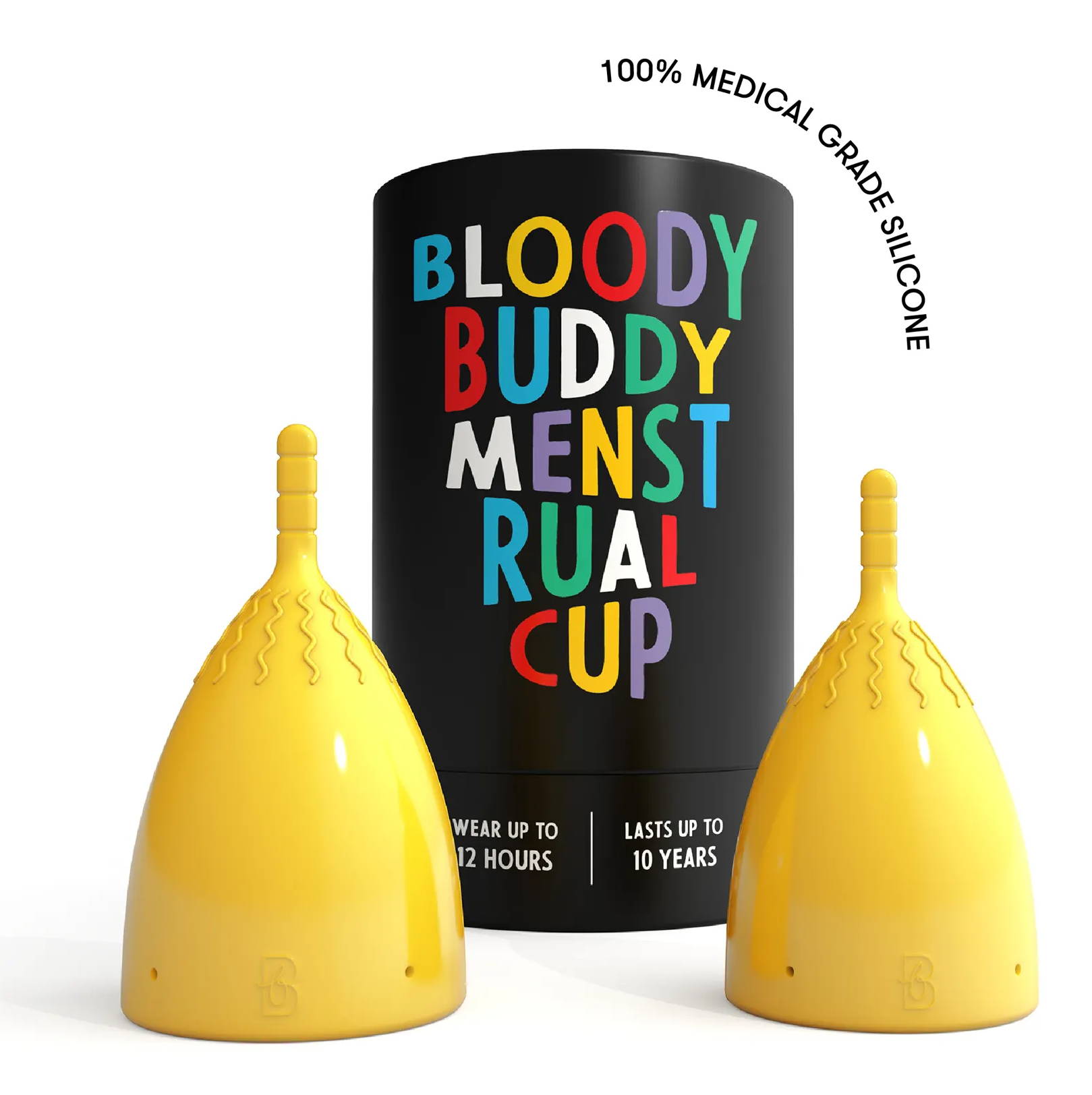 Better than expected!
I was prepped for a big learning curve, but it really was simple to figure out and easy to use! Love, love, love, that I have a new option for menstrual support! Easy to use, simple to clean, and cleaver packaging. Win, win, win!
Period freedom!
This cup literally changed my period life! Before trying I watched EVERYTHING they had on Instagram. It was so helpful and a safe place to learn more about a woman's body. They have so many helpful tips for success using the cup! With the cup I am able to empty it two times a day and not worry about it for the rest of the day! I am so done with leaking problems! Thank you so much for the bloody buddy cup!!!
Definitely a learning curve
First time I ordered the teen/small combo...I've had 2 kids and I'm apparently much larger than the small cup. Guess I'll save those for my daughters when they start. Ordered the larges and they're working much better for me. I've used them strictly for when I'm home for learning purposes, until I felt confident enough to wear them out for the day. I find I have to sit on the toilet to insert them, as standing does not get it far enough in to create a good suction to stay. If I'm at home I will wash it out, DRY IT (I found if it's wet that it won't create a suction as well), go back and sit on the toilet to insert. IF you have to go potty, do your business first, take it out and dump it, FLUSH then reinsert...I accidentally dropped mine in the toilet and hadn't flushed yet...won't be making that mistake again! Now that I've gotten the hang of it, I'm getting more comfortable with it. Still keep tampons on hand in purse, car, work, etc. just in case, but overall, like using it. I push one side down for it to look like a tulip flower to insert, then as soon as it's barely in, I let it open up and shove it further until I can feel it in the cavity...sometimes have to twist it around to make sure it gets a good suction. When removing, I pinch the bottom of the cup (just past the little tabs) and pull. Hope this helps someone who is struggling with it! Don't give up, it does get easier, just takes practice...a month or two and you'll get the hang of it!
Amazing!
I love my bloody buddy cup! It has saved me so much money and decreased my waste by a lot. I appreciate how the cup has helped me become more comfortable and acquainted with my body and made my periods more manageable.
Life changing
This cup is life changing! Tried other cups and was struggling making it work. (Like 6 months) I gave up and figured one more try with BBC. My first time using the bloody buddy cup and had success the whole time! My cramps were almost not there since I wasnt using a tampon with all the chemicals on it. Which was a first for me! Love love these cups and will recommend then to everyone.